The New First Due Mobile App



You spoke, w
e listened.
The feedback First Due receives from our users is at the center of our product design. The greatest resource we have
is the diverse experience of the firefighters we work with from across the country. As part of this commitment,
F
irst Due has increased the resources invested into our Mobile Responder application.
Over the next several months, First Due will be continuously releasing updates to the First Due Mobile app. This agile approach to regularly releasing updates allows responders to familiarize themselves with advancements to the application and enables the First Due team to quickly release optimized features into their hands.
Release Notes

June 2021

Our Android and iOS apps have been enhanced with key system updates. Now, you can select your default station for volunteer fire responders. You can also indicate how long dispatches should remain in your incident lists, and much more.

Head over to App Store and make sure you're on the latest versions of the app iOS 4.4.0 and Android 5.0.6.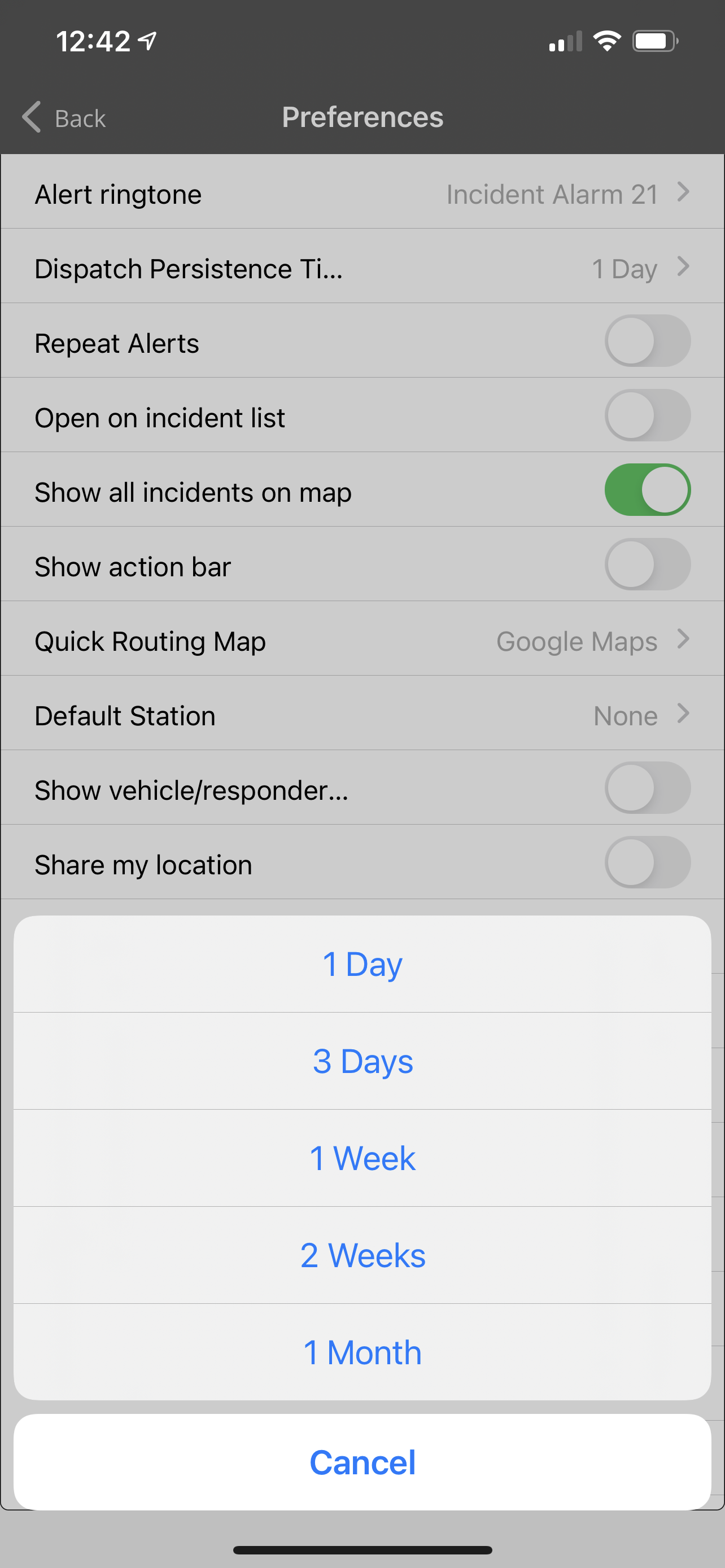 March 2021
Here are a few updates we've made since March. Check them out in your Mobile App!
Color Enhancements


Incident Details Screen Enhancements

Addition of Fire Inspection Module

Additional Response Status Change Buttons

Respond from Home Screen Lock





February 2021

Option to Navigate with Apple Maps or Google Maps

Users can now select their preferred Turn-by-Turn navigation map within User Preferences. To select your default map application, follow these steps:

Click on the Menu

Select User Preferences

Tap Quick Routing Map to select your desired default map for Turn-by-Turn directions.





Outside Resources
Users can now save a list of URL links to any website within the Mobile App for quick access when needed.

Click on the Menu

Select Outside Resources

To add a new Website link, Select the "+" button in the top-right.

Add the Title and URL for the website.

Click Save

To Edit or Delete a website, swipe Left.

Once saved, these links will be accessible from your mobile app when needed.


Each user manages their own links and will have to add URLs within their own App. This isn't currently controlled at an Admin level. Links added by one users will NOT be seen by anyone else.

New Alert Tone

Incident Alarm tone 21 has been added. This is a short tone resembling the keying of a radio mic. To change your Incident Alarm tone, follow these steps:

Menu > User Preferences > Alert Ringtone.

--------------------------------------------------------

December 2020

Updated Homescreen and Relocated Menu

The menu has been moved to the top left in preparation for our new UX layout.


The new alarms tile remains in the bottom right but now opens from the right to improve product consistency.

New Incident Details Page

New Incident Details layout


New, dedicated sections for Incident Details, Building Story and Status Logs.


New Statusing buttons


If your agency is using Statusing, you will now see those buttons at the top of the new map.

If you see Statusing buttons but would like these removed from your account, please reach out to your Client Success rep to disable them.

If you'd like to learn more about enabling Statusing for your FD, please reach out to your Client Success rep.


Improved Map Layout

Quick Route (located in the top right) automatically begins navigation in Google Maps.)

This redesigned page will soon enable users to customize their Incident Details page to display what they care about.

Tablet Updates

Updates to the Incident Details page are mirrored between Phone and Tablet

Removed the 2nd map from the Incident Details page.

Status Log will list all Units & Users who have Statused to the call.